Meet Our Groomer, Robin Ballenger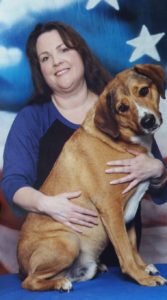 Robin has been grooming dogs for over 30 years. She loves working with animals and grooming dogs allows her to follow her passion all day. Besides all the traditional cuts for the various breeds, Robin will work with owners to create great individualized looks for their dogs. She really enjoys this creativity.
Robin takes a great deal of care to be sure that dogs enjoy the process of grooming. She offers puppies an introductory visit so they can become socialized to the grooming process.
For breeds that require regular grooming to keep their skin and coat healthy, Robin recommends booking a standing appointment. With a standing appointment, your dog's coat and nails will receive the regular care they need to prevent mats in the coat and over-grown nails.
Standing appointments really make a difference during the holiday season. Everyone wants their dog to look great for family and photographs during the holidays. Talk with Robin about setting up a standing appointment.
Puppies need to be up to date on their vaccination series to come in for grooming. Call our office if you have any questions about this.
Cat Boarding
Cat boarding at Pet Western Animal Hospital is in a safe, serene environment. There are large windows so your cat can spend the day gazing out the window watching the world go by. There are no intrusive dog noises in our cat boarding area. Your cat will enjoy our large, multi compartment cat condominiums.
Dog Boarding
Dogs love our grassy, fenced walking and exercise area. Adequate time outdoors ensures that our canine visitors enjoy their stay with us. Our dog kennel is indoors and climate controlled so no matter the weather your dog is comfortable when staying with us. Ask up about bathing or grooming availability on the day of your planned pick-up.
When you make your boarding reservations we will let you know about vaccination and flea control requirements for our boarders. The goal of these requirements is that all of our canine and feline guests stay happy and healthy during and after their stay.
Medical services while boarding
Many pet owners appreciate the convenience of having needed health work done while their pet is boarding. Annual examinations, vaccinations, dental cleaning, spaying and neutering can all be arranged to be done while your pet boards with us.